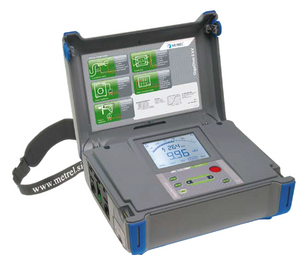 METREL MI3202 GigaOhm 5kV
Regular price $ 2,750.00 CAD $ 2,327.60 CAD Sale
MI 3202 GigaOhm 5 kV provides a quick and accurate reading of insulation resistance. The large segment LCD screen with backlight offers easy reading of results. The analogue/digital display with analogue graph has a range of up to 1 TΩ for insulation resistance and 600 V for voltage measurements.
---
 MEASURING FUNCTIONS
Quick setting - Quick & Easy test voltage selection
Faster testing - 5 mA current source for quick charging of capacitive loads
Safe - High CAT IV, 600 V voltage protection
Easy to read - Large, bright LCD display with backlight
Effective testing - High quality instrument, shielded test leads and accessories (included in the standard set)
---
MI 3202 Standard set
Instrument GigaOhm 5 kV

Mains cable

10 kV shielded test lead, black, 2 m

10 kV shielded test lead, red, 2 m

10 kV crocodile clip, 2 pcs (black, red)

Guard lead, green, 2 m

Crocodile clip, green

6 x 1.2 V NiMH rechargeable batteries, type C

Handbook on CD

Instruction manual

Calibration certificate
---
..